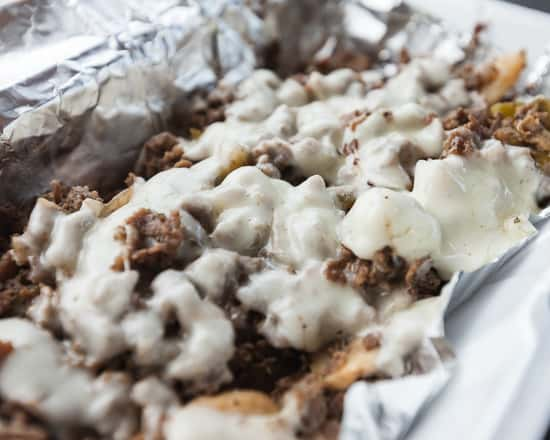 About Us
Born and raised in Philadelphia, the founders and owners Peter and Basil started the Philadelphia Cheesesteak Factory in 1993 at the "Old Little Tavern Building" on Bank and M Street and in 1999 expanded to the corner of 34th and M Street. Our Georgetown location is once again in the process of re-locating. Location to be determined. Since 1993, our little cheesesteak sub shop has grown with 2 additional cheesesteak locations opening the second location at Tysons in October of 2005 at Tysons Corner Mall Level 3 - Food Court, McLean, VA and the third and newest cheesesteak & pizza location in Alexandria, Virginia, opened December 2007 at 3060 Duke Street.
Family Owned and Operated, our commitment to serving fresh, authentic Philadelphia Cheesesteaks that make your mouth water. Our menu doesn't stop at Cheesesteaks, though! We boast some of the best burgers, salads, cheese fries, onion rings, mozzarella sticks, poppers, buffalo wings, chicken fingers, and Italian hoagies you've ever tasted. And don't forget dessert menu. We also serve at Duke Street NY Style Pizza with dough made fresh daily.
Big Cheesesteaks Philly Style
If Philadelphia is too far away for your grumbling stomach, stop by one of our Philadelphia Cheesesteak Factory locations for your favorite cheesesteak sandwich, any way you want it. You can have one with or without the onions, a side of sauce, or with whiz cheese. Our guarantee is this, Our Cheesesteak sandwich will be the best this side of South Street!